Reveal

where your traffic comes

from and expose hidden keywords that your domain is ranking for with the KeywordExposeNetwork
What is the KeywordExposeNetwork?
KeywordExposeNetwork is the brand new technology from TrafficAnalysis that communicates with alternative networks such as Webmaster Tools, SEMRush, and Search Metrics through high-speed and reliable network to reveal the keywords your visitors typed into Google to find your website.
3 Benefits of TrafficAnalysis
#1 – Know where your visitors come from
The keywords through which visitors found us via Google are hidden by Google Analytics and summarized as «(not provided)». TrafficAnalysis reveals a large part of these keywords. In order to do so, Traffic Analysis receives data from Google Webmaster Tools and from the crawling services SEMRush and Searchmetrics, so you can still see where your visitors come from.
#2 – Detailed analysis of your rankings
But that's not all: TrafficAnalysis examines the data with help from SECockpit and RankTracker and shows you how often each keyword is searched for on Google and what ranking you currently have. You are able to tell at a glance which keywords have the greatest potential. This allows you to optimize them immediately and with minimal effort to get even more organic traffic.
#3 – Examine your competition and win new customers
TrafficAnalysis brings to light valuable data even if you don't have access to Google Analytics or Webmaster Tools. On one hand, this allows you to examine the rankings of your competitors, on the other hand, you can perform analyzes for potential and existing customers where you have no access to their Google account.
In other words: Thanks to TrafficAnalysis you know exactly through which keywords you get visitors, how much potential those keywords contain, and how much work the optimization for these keywords will cost you.
Why is this hidden?
When Google put in new security measures for it's search engine, it hid all the keywords that visitors used to find your website via Google.
These keywords are now summarized in GoogleAnalytics as 'not provided'.
You need to pay for Google Adwords to be able to see this vital information.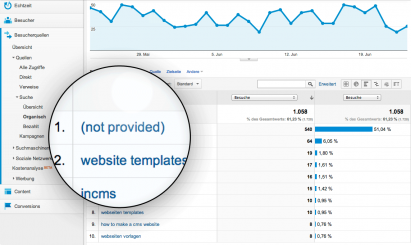 Click on the "

Start My Account Now

" Button to Get Started Instantly...
NO INSTALLATION REQUIRED
TOP-SPEED (CLOUD-BASED)
ALL DATA INCLUDED! NO OTHER ACCOUNTS OR SUBSCRIPTIONS REQUIRED
30-DAY MONEY BACK GUARANTEE
Choose the best TrafficAnalysis Package for you:
BEST VALUE

PERSONAL

PRO

AGENCY

Choose Payment Plan:

Monthly

Yearly (Save up to 30%)

$360
$249 / year

$720
$499 / year

$1440
$999 / year

Cloud Based: No Installation or Download Required

International: All Countries & Languages Supported

Automatic Data Refresh

Unlimited Domains

Analyze Sites you Own

Analyze Competitors

-

Google Analytics Keywords

100

1'000

20'000

Google Webmaster Keywords

100

1'000

20'000

SEMRush Keywords

-

1'000

20'000

PDF Reports with White Labeling

-
-

Special Bonus: SEO Crash Course

-

30 Day Money Back Guarantee
* For billing addresses in Switzerland or in the EU, the respective country's VAT-Rate is added to the prices above.
If you're a company in the EU and enter a valid VAT ID on the next page, no VAT is added.
For all other countries no VAT is added.
30-Day Money-Back Guarantee
Signing up for TrafficAnalysis is absolutely risk-free for you. We know that once you see this in action and have tried it for yourself, you will love it. In fact, you will probably wonder how you ever did without it! If, for any reason, you are not completely satisfied with TrafficAnalysis, you can get your money back within 30 days. Simple as that.
What TrafficAnalysis Users Say About This Software...
Dominic Sentinelli
www.localwebinternetmarketing.com
Meet The Team Behind TrafficAnalysis...
Competing in the online space has become more demanding and fast-paced in the last couple of years. The key is automation and that is the driving force behind SwissMadeMarketing.
Since 2010, SwissMadeMarketing has created new business solutions for internet marketers from keyword research to cms platform. Today, SwissMadeMarketing continuously strive to be in the forefront of innovation to automate business process and make every entrepreneur's life more efficient and productive with less time.
The team is composed of highly skilled programers in Switzerland and an international team of marketers dedicated in bringing you high quality products.